Do you have questions concerning the selection or use of our products for your client?
Since its beginning, Kaye Products, Inc. has had a pediatric physical therapist as part of the management team. This has allowed us to have the critical therapeutic consultation on customer needs, product design, clinical testing and marketing.
Janet M. Wilson Howle, PT, MACT has more than 35 years as a clinical PT and educator in areas of PT related to children with CP or other neurologically related developmental disorders. Currently, Janet maintains a limited private practice and continues as Vice President and PT consultant to Kaye Products.
Formally, she was assistant professor at the University of North Carolina, Chapel Hill, in the Division of Physical Therapy. She is an NDT Certified in Pediatrics, is an NDT Instructor and teaches in pediatric and adult NDT courses both in the U.S. and Europe. Her publications include numerous articles and book chapters on topics related to CP. Most recently she authored a book, Neuro-Developmental Treatment: Theoretical Foundations and Principles of Clinical Practice. Janet continues to teach continuing education courses for PTs and OTs on topics related to intervention for children with CP. Her current interest includes the application of the theory of Neuronal Group Selection to motor development and control.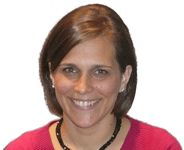 Dora G. Sole has a Doctorate in Physical Therapy from Duke University. Since completing her Doctorate, she has dedicated her clinical practice to pediatrics. Her clinical experience includes working with children who have neurological developmental disorders and metabolic disorders. Dora has completed numerous continuing education courses in pediatrics and is NDT Certified in Pediatrics. She is a Certified Clinical Instructor and frequently mentors physical therapy students.
Aside from her clinical responsibilities, Dora teaches in the physical therapy program at Duke University. She is a member of the American Physical Therapy Association (Pediatrics Section and Clinical Electrophysiology and Wound Management Section,) the North Carolina Physical Therapy Association, the Neurodevelopmental Treatment Association, and the Amputee Coalition of America.
Click below to email your question to our therapists. They will reply to your email within 3 business days.