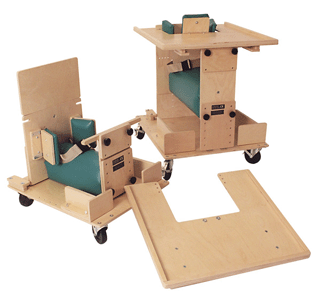 These are designed for children who need a wide base of support in order to achieve good pelvic position, lower extremity position, and trunk alignment for stable sitting. Two sizes are available, large and small.
B3 & B4 Models
Basic Chair with Casters, B3C, B4C
Basic Chair with Casters & Chest Supports, B3CCS, B4CCS
Each is highly adjustable and available with:
Bolster chair and base
Tray
Back extension
Footstops
Side supports
2″ belt
Optional casters
Optional tray with chest-support cushions.
Small Bolster Chair, Model B3
For users 2-6 years, up to 42″ tall
Removable desk tilts, is depth adjustable, 25″ W x 23.5″ D
Bolster is 15″ L x 8″ W
Width between side cushions adjusts from 4.5″ to 6.5″
Adjustable 2″ belt
Removable foot supports adjust front to rear
Distance from top of seat to floor adjusts from 7″ to 13
Back extends 7″ above seat
Removable back extension adds 8″ to height of back
Optional 4″, locking, swivel casters
Optional tray with front and side chest supports

5.5″ W x 6.5″ H front cushion.
Width between side cushions adjusts 6.5″ to 8.25″
Large Bolster Chair, Model B4
For users 5-11 years, up to 48″ tall.
Removable desk, tilts, is depth adjustable, 25″ W x 30″ D.
Bolster is 23″ L x 10″ W.
Width between side cushions adjusts from 5.5″ to 10."
Adjustable 2″ belt.
Removable foot supports adjust front to rear.
Distance from top of seat to floor adjusts from 9″ to 17.5."
Back extends 10″ above seat.
Removable back extension adds 11″ to height of back.
Optional 4″, locking, swivel casters.
Optional tray with front and side chest supports.
6″ W x 8″ H front cushion.
Width between side cushions adjusts 6.5″ to 8.5."