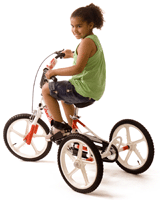 Kaye Products is pleased to offer the ToniCrossTM Tricycles, which are made in France. These tricycles have been specifically designed for children with developmental disabilities. A great deal of effort in design and manufacturing has been made to make them appropriate for children from 2 1/2 years of age through adolescense. The stability, ease of pedaling and range of adaptations make these tricycles both useful and fun for a wide range of children with various degrees of disabilities.
These tricycles are chain driven from a rear wheel, which places the foot pedals directly under the seat. This provides an easier motion than front wheel drive tricycles. Hand brakes allow ease in braking and the ability to move the tricycle backward by pedaling backward.
Please note that the items on this page are not available through our online ordering page. Contact us at 919.732.6444 or service@kayeproducts.com for details.
Features and Specifications
Available in 3 sizes, JM1, JM2, and JM3 for children from 2 1/2 years to 5′ tall.
Seat and handlebar height adjustable.
Hand brake for right or left hand braking.
Chain driven from rear wheel.
Limited front wheel turning radius for safety.
| Model Number | Fits leg length or inseam | Price in US$ |
| --- | --- | --- |
| JM1 | 15″ – 17 1/2″ | CALL |
| JM2 | 17 1/2″ – 22 1/2″ | CALL |
| JM3 | 22 1/2″ – 27 1/2″ | CALL |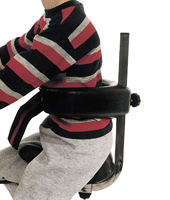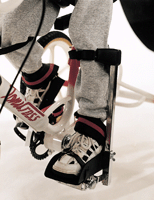 Tricycle Accessories
The Back support can be placed low around the pelvis or high around the thorax to provide the needed postural control. Two units can be placed on the same upright to provide additional pelvic and trunk support. We suggest cutting off the post height once the support is in place.
The Foot Supports, model JMF, and Leg Abductor supports, model JML, used in combination controls leg alignment and foot placement. These options can be purchased separately depending on the needs of the child.
Features and Specifications
| Tricycle Model | JM1 | JM2 | JM3 | Pricing |
| --- | --- | --- | --- | --- |
| Foot Supports | JM1-F adjusts 3″ to 4″ wide | JM2-F adjusts 3.5″ to 4.5″ wide | JM3-F adjusts 4″ to 5″ wide | Call |
| Back Support | JM1-B | JM2-B | JM3-B | Call |
| Leg Abductor | JM1-L | JM2-L | JM3-L | Call |