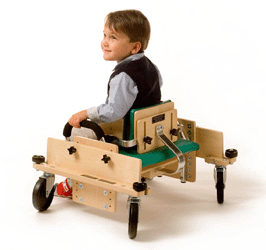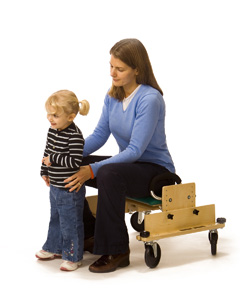 Designed as a mobile sitting and exercise device. Allows the users to exercise their legs by pushing or pulling with their legs in order to propel themselves. Can also be used as a mobile therapy stool.
Padded seat: 16.5″W x 12.5″D
Adjustable seat height: 8.5″ to 16.5″
Handgrips are 5″ above seat
5″ Swivel Casters
Overall Width: 24″
KAYE Optional Back Support, Model SBAO
The new, adjustable, removable back support for the Kaye Scoot-About (Model SB-1) provides support at the pelvis for children when seated on the Scoot-About. The back and side supports adjust in height and width to give optimal vertical alignment for the pelvis and trunk. Adding this accessory assures that when a child is seated on the Scoot-About, that the seat depth supports the entire thigh on the seat surface. The adjustable height of the posterior support maintains the pelvis in a vertical position and the adjustable lateral supports minimize asymmetry of the trunk as a child scoots around on the Scoot-About. This accessory makes the Scoot-About a useful mobile seat for children as they practice propelling themselves with their feet. This accessory is removable so that the Scoot-About can still be used by parents and therapists. Attaches to any Kaye Scoot-About.
Adjustable Seat Depth: 5″ to 12″
Back Dimensions: 9″w x 5″h
Side Cusions: 4″ x 4″
Width between side supports: 5″ to 11″